About Us
Marina Fish & Chips & Best Kebab In Town is a Fish & Chips takeaway in Maidstone. Why don't you try our SF Chicken Strips 6pcs or Shish & Chicken kebab?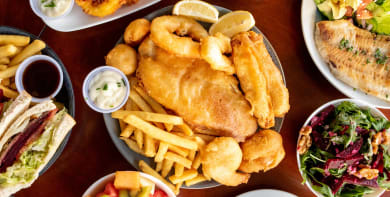 Reviews
490 reviews
Mark
"Great food, best tasting kebab meat I've tasted in a long while. Pitta bread were fresh and tasty too. Well recommended."
07/04/2021
Colin
"Fantastic food! Kebab was lovely and more importantly the chips were chip shop style instead of the sub standard deep fried offerings you can often get from a kebab shop.........highly recommend!!"
03/04/2021
Daniel
"What a wonderful Kebab! Thank you, Marina Kebab and Fish n' Chip Shop!"
01/04/2021
Raymond
"Great food Great service Very pleased"
31/03/2021
Menu
Quarter Pounder Burger Regular
£4.50
Quarter Pounder Burger With Cheese
£4.60
Half Pounder Burger With Cheese
£5.60
Half Pounder Burger Regular
£5.50
Chicken Fillet Sandwich Burger
£5.00
Ben & Jerry's Cookie Dough
£5.49
Ben & Jerry's Chocolate Fudge Brownie
£5.49
Ben & Jerry's Caramel Chew Chew
£5.49
Haagen- Dazs Strawberry Cheesecake
£5.49
Haagen- Dazs Cookies & Cream
£5.49
Haagen- Dazs Belgian Chocolate
£5.49
Chicken & Lamb Doner Mix Kebab
£9.90
Chicken Shish & Lamb Doner Mix Kebab
£9.90
Lamb Shish & Lamb Doner Mix Kebab
£9.90
Lamb Shish & Chicken Doner Mix Kebab
£9.90
Lamb Shish & Chicken Shish Kebab
£9.90
Chicken Shish & Chicken Doner Kebab
£9.90
Lamb Kofte & Lamb Doner Kebab
£9.90
Doner Kebab Small
Specially prepared lamb roasted on an upright spear and served in pitta bread with salad
£7.00
Doner Kebab LRG
Specially prepared lamb roasted on an upright spear and served in pitta bread with salad
£8.50
Doner Kebab XLRG
Specially prepared lamb roasted on an upright spear and served in pitta bread with salad
£10.50
Chicken Doner Kebab Small
Slices of marinated chicken cooked on an upright spear and served in pitta bread with salad
£7.20
Chicken Doner Kebab LRG
Slices of marinated chicken cooked on an upright spear and served in pitta bread with salad
£8.60
Chicken Doner Kebab XLRG
Slices of marinated chicken cooked on an upright spear and served in pitta bread with salad
£10.90
Lamb Shish Kebab Small
Cubes of filleted lamb marinated in olive oil and onion juice, herbs and seasoning, cooked on a charcoal grill and served in pitta bread with salad
£7.90
Lamb Shish Kebab LRG
Cubes of filleted lamb marinated in olive oil and onion juice, herbs and seasoning, cooked on a charcoal grill and served in pitta bread with salad
£9.90
Lamb Shish Kebab XLRG
Cubes of filleted lamb marinated in olive oil and onion juice, herbs and seasoning, cooked on a charcoal grill and served in pitta bread with salad
£12.50
Chicken Shish Kebab Small
Specially prepared cubes of chicken skewered with green pepper and onion seasoning, cooked on charcoal grill and served in pitta bread with salad
£7.50
Chicken Shish Kebab LRG
Specially prepared cubes of chicken skewered with green pepper and onion seasoning, cooked on charcoal grill and served in pitta bread with salad
£9.50
Chicken Shish Kebab XLRG
Specially prepared cubes of chicken skewered with green pepper and onion seasoning, cooked on charcoal grill and served in pitta bread with salad
£12.50
Lamb Kofte Kebab Small
Minced lamb prepared with a variety of spices, skewered and cooked on a charcoal grill and served in a pitta bread with salad
£7.30
Lamb Kofte Kebab LRG
Minced lamb prepared with a variety of spices, skewered and cooked on a charcoal grill and served in a pitta bread with salad
£9.10
Lamb Kofte Kebab XLRG
Minced lamb prepared with a variety of spices, skewered and cooked on a charcoal grill and served in a pitta bread with salad
£11.00
Mixed Kebab - XLRG
1x skewer of shish kebab, 1x skewer of chicken kebab, doner kebab and served in pitta bread with salad
£18.00
Kid's Doner Meat Meal
Doner Meat
Chips
Drink (Apple Juice)
£4.99
Kid's Fish or Sausage Meal
Fish Cake OR Jumbo Sausage
Chips
Drink (Apple Juice)
£4.99
Kid's Nuggets Meal
4pcs Nuggets
Chips
Drink (Apple Juice)
£4.99
Kid's Burger Meal
Kid's Burger
Chips
Drink (Apple Juice)
£4.99
Quarter Pounder with Cheese Meal
Quarter Pounder with cheese
Chips
Can of Drink
£6.50
Half Pounder with Cheese Meal
Half Pounder with cheese
Chips
Can of Drink
£7.99
Mega Burger with Cheese Meal
Mega Burger with cheese
Chips
Can of Drink
£9.50
Chicken Burger Meal
Chicken Burger
Chips
Can of Drink
£6.70
Chicken Fillet Burger Meal
Chicken Fillet Burger
Chips
Can of Drink
£6.90
3 Large Fish Meal
3 Large Fish
2 Large Chips
Bottle of Drink 1.5ltr
£26.00
Family Special Kebab
Lamb Doner, Chicken Doner, 1 Skewer Kofte, 1 Skewer Lamb Shish, 1 Skewer Chicken Shish, 1 Large Chips, Pot of Sauce, 4 Pitta Bread
Bottle of Drink 1.5ltr
£27.00
Pot Of Sauce Tomato Ketchup
£1.10
Doner Meat, Chips & Salad Small
£8.10
Doner Meat, Chips & Salad LRG
£9.10
Chicken Doner Meat, Chips & Salad Small
£8.50
Chicken Doner Meat, Chips & Salad LRG
£9.50
Chicken Doner Meat & Chhips Small
£7.40
Chicken Doner Meat & Chhips LRG
£8.50
Contact Us
Find Us
57-59 Upper Stone Street, Maidstone, ME156HE
We deliver to
ME14, ME15, ME16, ME17